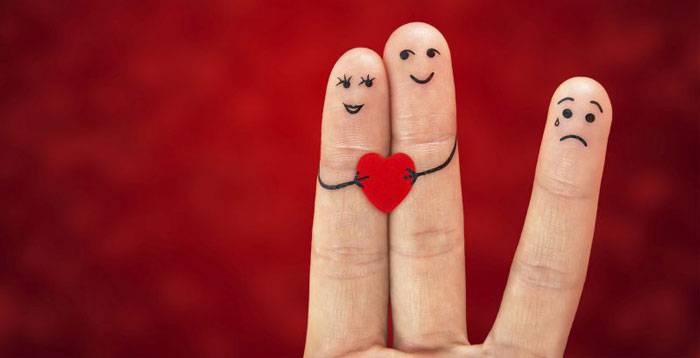 Jealousy is one of the basic emotions of a person that affects the relationships between people, especially in romantic relationships, from childhood to youth. This is an emotional response more than being a bad feature. This reaction usually occurs in facing the real or unreal concern. This concern often occurs when a person suspects that his relationship or his position is threatened to be destroyed.
Some times Jealousy is not bad
The sense of jealousy between two people or two groups can encourage them to try consciously for increasing the sense of value in a person. Some psychologists have even claimed that if a person doesn't have this feeling, he will be in a lack of commitment in his relationships with the others.
How is the feeling of jealousy made in us?
Jealousy is often rooted in a lack of self-esteem and self-confidence. So it affects people according to their level of self-esteem and self-confidence. This lack of self-esteem makes unrealistic imagination and these imaginations are the cause of jealousy.
Humans are generally jealous because of an infinite love and afraid of losing their love. By excessive control, they ultimately lead to conflict. Although there is more jealousy in romantic relationships, this usually exists among colleagues and competitors and also between siblings. The parents make their children jealous by paying attention to one of their children more than the others. This double attention provokes a sense of jealousy in another.
They say that a little jealousy is necessary to preserve what we have or to get and improve a relationship, but this does not seem to be a right justification for increasing such an emotion and expressing it in a relationship. The jealousy never help you keep or care a relationship.
This feeling, like many other excitements, can also help you "preserve" the relationship, but in some cases, it is intensified and distracts the mind of the person. This is where it comes out of the protective aspect and changes to a destructive one. This type of jealousy is unusual or abnormal, and psychologists call it sickly jealousy. The sickly jealousy may lead to violence and even death in some cases.
How can jealousy affect us and our relationships?
A jealous person is someone who doesn't want the others have blessings, happiness, and successes in the financial, educational, and occupational aspects of the society. The jealousy is very complicated and may be different in individuals. But this feeling does not bring us anything, and ultimately makes disturbance, stress and worthlessness.
This feeling finally turns into a disability and a sense of deficiency in a jealous person and makes him humiliated. Thoughts that make jealousy begin to progress in our minds, and if we cannot control it, these thoughts defeat us and, as a result, may lead to aggression and disturbance.
The jealousy is similar to the virus and can even destroy the best relationships. No one likes to be in touch with a jealous person. The result of this feeling is insecurity and fear. Jealousy can be described as a combination of different emotions like stress, anger, fear and insecurity.
There is often a kind of fear in the sense of jealousy. Because a jealous person sometimes feels that the affection of his interested people is decreasing or the position, post, or something he has expected to achieve is taken by another person. If you can control your jealousy, your performance will increase and lead to personal growth and development.
How can we overcome our jealousy?
There are many ways to overcome jealousy. One of the most effective ways to overcome it is the use of NLP techniques and hypnotherapy. Farshid Pakzat's Research Group, in the following teach NLP techniques to overcome the feeling of jealousy.
Step 1- Accept the existence of jealousy in yourself
The means of accepting jealousy is not to accept and cope with this feeling. The purpose of acceptance is to believe it. Understand the existence of this feeling in yourself and not conceal it. You can get help from the people around you to ensure this feeling exists.
Ask your friend or partner about how jealous you are or not. This will make you embarrassed if the answer is positive. This is a great step for acceptance and you can begin to make changes by accepting it. Until you do not have acceptance, you won't do anything to eliminate it.
Step 2- Find the evidences
Find and write the things that make you jealous. Find any evidence that may endanger your relationship? Find behaviors that put your position at risk? Try to find words that you have used a lot and they are in your mind and soul.
Step 3- Find the jealousy's root
The important thing is identifying this jealousy properly and logically and thus find its root. You cannot defeat jealousy until you identify it. Once you find the main reason, try to fix it. Is your problem related to your talents and abilities or your behavior and actions? Do you have problems in your beliefs or self-esteem?
You must talk to yourself positively with your positive words. Always consider yourself worthy and lovely. Think that your affectionate partner loves you and gives you a lot of respect. Think about all the abundance of the world in your mind. Think that you have many talents and abilities. When you think like this, you'll be aware of the opportunities and chances ahead of you.
Always wait a moment before any reaction and count up to 10. Find yourself and your soul. Break your old patterns. If you have previously shown behavior and reaction that made the others upset, try changing it. Think that jealousy has many messages for you. Try to find the message in your thoughts and feelings. It can be one of the signs of love. It is talking to you. Listen, see and understand it.